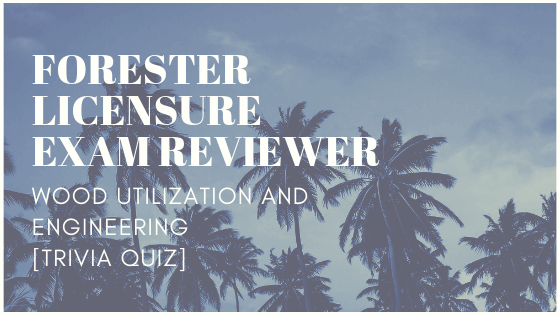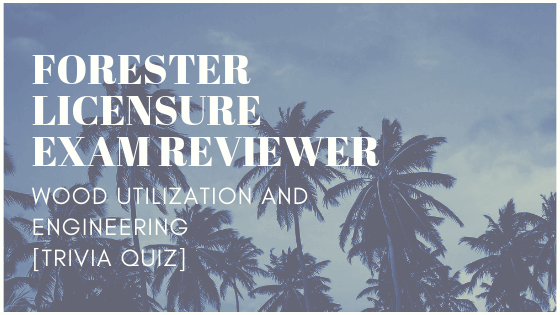 Resin obtained from Anisoptera thurifera
Grooved or notches made in cutting with saw
The property of wood which exhibits different physical and chemical characteristics along it planes
Plywood that is capable of withstanding prolonged exposure to severe service condition
It is the lengthwise curvature of the narrow surface of the board.
It refers to any irregularity or deviation from the qualities that make the wood suitable for a particular end use
Wood with completely filled resin canals
An example of wood boring mollusk
A kind of decay when both the cellulose and lignin is removed
Which is the best species for fuel wood production?
A classification of lumber which are used for general building and construction purposes
It is used for smoking fish
An open joint extending through or partially through a panel, which result when side by side core veneers are not tightly buttered together.
An empty cell process which applies air pressure above atmospheric pressure to force air into the wood cells before the impregnation of preservative
The first strength property of a wood affected by decay
A complex phenolic polymers of irregular structures in wood
The growth of tissues found inside the vessel
Longitudinal or axial wood cells that function mainly for food storage
Load where the force acts over a long period of time is called?
General term for cup, bow, twist or crook
Speed up chemical reaction in the mix
A process of sawing boards to desired dimension.
It is the standard method of treating with all water-borne preservatives
It is a term used for the dilute suspension of separated fibers in water
The sour smell of logs submerged in water is an indication of what?
Characterized by a surface tension set in the shell and compression set in the core of a dried lumber
The term used to indicate the rate flow of gases and liquids in wood
Plain sawed lumber is synonymous to
A kind of decay where only the cellulose removed
If the moisture content of a wood sample is 30% and its ovendry weight is 100g, what is its green weight?
Species that smells like old leather
Consist of making a series of narro holes or slits in the wood about 1/2 to 3/4 inch deep. This allow preservatives to better penetrate impregnation-resistant wood species and make possible a more uniform penetration to atleast the depth of holes.
It is also known as bethel process
What is the conversion efficiency of a sawmill if the log input is 45 cu. m. and lumber output of 9,540 ft.?
The smallest aggregations of cellulose molecules in the plant cell
It is the lengthwise curvature of the wide surface of the board.
The moisture content of a piece of wood with green and ovendry weight of 300 and 180 grams respectively
It is used to hold the log or can steadily during sawing
Common type of fillers except
Bubble-like outgrowth of the parenchyma cells adjacent to the vessels are called what?
Line AB was measured by a 25 meter tape and was found to be 2.0 km. Then when compared with the standard tape was found to be 10 cm. short. What is the correct distance of AB?
Chromated copper arsenate (CCA) is an example of what?
If the sawmill percentage recovery is 55% and its target output is 23,320 board feet. What is the required volume in cu. m. of log?
The cutting unit system of lumber is used in
A treatment which reduce combustibility in wood
Analyze the statements. I. Majority of Philippine timbers are diffused porous II. Kalantas exhibits solitary pores.
A reaction wood formed on the upper side of leaning hardwoods.
Measure if stiffness of a beam or column
This organisms damages wood in salt or brackish water
A highly purified liquid products used in the manufacture of rayon, tire, cord, cellophane, plastic, etc.
Recommended treatment for marine piles
These are classification of fiberboard according to surface finish except for?
The fiber saturation point of wood is when?
It is consisted of cellulose and hemicellulose
A lumber that has not been dressed
The outgrowth of tissues found inside the vessel
A series of marking made by machining knives in dressed lumber
Causes blunting tools during machining of wood
Removing moisture from green wood to improve its serviceability
Ratio of calculated or lotted linear error to the measured and recorded perimeter
A crude method of measuring horizontal distance
A yellow coloring dye obtained from the rhizomes of Cucuma longa and is grown in Northern Luzon
Occurs when the ends of the boards dry much faster than their major portions.
Strips of short horizontal that extends in a radial direction
The state in which the particles of the adhesive are held together internally
A process which employs water-borne preservatives
An oily byproduct of making coke from bituminous coal, is widely used as a preservative for such products as railroad ties, large timbers, fence posts, poles, and pilings.
One of the earliest glue derived from milk
It is the light-colored wood beneath the bark that is susceptible to stain
In hardwoods, the main artery in the movement of sap
A generic term for panel manufactured from lignocellulosic materials (usually wood), primary in the form of discrete pieces of particles.
Creosote is often called coal tar because of its close relationship to which compounds?
Reducing logs to smaller pieces
Consist of the narrow ribbon like strand of wood
The poorer side of the plywood panel
Requirements for the inception, growth, and development of decay fungi
Load where the force acts over a long period of time is called?
What is the interior angle formed by two survey lines S 10° E and S 35° W?
Internal checking when drying stresses that developed exceed the strength of wood
It provides rigidity of the tree making upright growth possible
A fungal organism that attack wod
A thin sheet of wood or peeled from a log or flitches
An example of crustaceaen borer
Cutting glue by the action radio frequency energy
Longitudinal or axial wood cells that function mainly for food storage
The amount of water in wood usually expressed as a percentage of its ovendry weight
These chemicals are generally insoluble in water. They are usually dissolved in petroleum or other organic solvents in order to penetrate wood
An example of wood boring mollusk
The breaking strength of a beam expressed in stress per unit area
It is the principal chemical constituents of the cell walls in higher plants
Soft rot fungi usually attack green (water saturated) wood (high M. C.), causing a gradual softening from the surface inward that resembles brown rot.
The curving of the edges so that the four corners are no longer in one plane
Pinholes are borer of holes not over
Pigments obtained from various parts of plants which are used for colony textile and other fibers.
A method of preserving wood consists merely of immersing wood in a preservative solution for few seconds or minutes that ensures more adequate penetration because all surfaces come in contact with the preservative
A brackish or brownish oil made by distilling coal tar